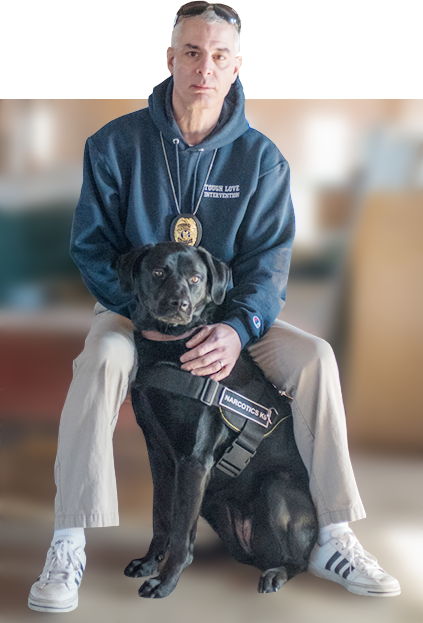 Tough Love Intervention is a private K-9 narcotics detection company. All of our K-9's are trained and certified to detect the follow narcotics: HEROIN, COCAINE, CRACK COCAINE, METHAMPHETAMINE, MDMA (ecstasy), FENTANYL, MARIJUANA & HASHISH. We use Labrador Retrievers for all our K-9 narcotics detection work. All of our K-9's are reliable and friendly.
Tough Love Intervention specializes in narcotics search work in treatment centers, detox centers, sober living facilities, hospitals, private homes, private businesses, municipal buildings and structures, college dormitories & living spaces, public & private schools, homeless shelters, halfway homes, as well as houses of correction, jails, prison, & any other locations where the fear of illegal narcotics may be present and unwanted.
Our certified narcotics detection K-9's have successfully detected the presence of the following Illegal narcotics on previously conducted narcotics searches: Fentanyl, heroin, amphetamine, methamphetamine, cocaine, & marijuana, MDMA (ecstasy). As well as used syringes and various devices used for smoking crack cocaine & marijuana.
Having a K-9 narcotics search conducted has multiple benefits.
* K-9 narcotics searches provide the strongest assurance of a drug free environment.
* K-9 narcotics searches are a great deterrent for facilities looking to enforce a "zero tolerance policy" with regard to the presence of illegal narcotics.
*IT'S PRIVATE. Should the presence of narcotics be discovered on a search, the individual/s who contract Tough Love Intervention decide how to dispose of the narcotics.
NOTE: Tough Love Intervention is not affiliated with any law enforcement agency.
All searches are private & kept strictly confidential. We are fully licensed & insured
*Our searches have also uncovered the presence of various items not allowed by clients: Cigarettes, vape pens, lighters, razor blades, non narcotic pills, etc
Our goal, to prevent accidental overdoses, while helping to ensure a drug free environment remains unchanged.
Tough Love Intervention proudly supports our Armed Service Members & Veterans by providing FREE narcotics search work at Veterans' facilities throughout the Commonwealth of Massachusetts.
May God bless everyone on the journey to recovery.
Sincerely,
Kevin Drouin
Owner - Tough Love Intervention